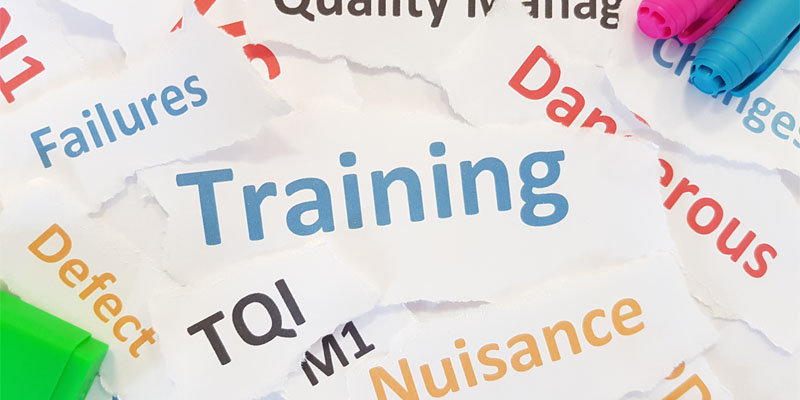 What's New Pussycat? Throwing Some Light On The New Directive...
Barry Babister from MOT Juice takes a look at the changes to the scheme and the Directive EC.2014/45, which forms a large part of the Annual Training Syllabus for 2018-19. Barry is a director at MOT Juice and at CCM Garages which own and operate 5 mot bays.
I work in and around MOT testing every day and yet I am daily confronted with new terms and abbreviations, new rules and guidelines faster that I can possibly keep up.
So just for fun here is a run through the latest DVSA guidance notes where I have added some more easily palatable descriptions and cleared away some of the 'noise', if you are a tester then this should help re-enforce your annual training syllabus and if you are involved in the MOT scheme it with hope expands upon the DVSA offerings.
New defect categories
Dangerous Items
defects that are fails and present risk to road safety or the environment
Major Items
defects that are fails and categorised as major within the fail criteria
Minor Items
defects that we used to term as optional advisories, but now must be listed
Advisories
can still be added manually
New vehicle categories
M1
(Class 4) or the official line is; Vehicles designed and constructed for the carriage of passengers and comprising no more than eight seats in addition to the driver's seat.
N1
(Class7) or the official line of; Vehicles designed and constructed for the carriage of goods and having a maximum mass not exceeding 3,5 tonnes.
Changes to test standards - items that have evolved their criteria
This year's annual tester training partly focuses on changes between the old and new manuals, with luck we will all have used the new manual sufficiently well by the time we reach next year's exam season to easily identify the new items.
Sections that have existing (some new) testable items that have changes to the testable criteria are most notably the following;
Brake fluid

(contaminated or below min level)

Day time running lamps
Front fog lamps
Reversing lamps
Bumpers

(truly must be secure with no sharp edges)

Prop shafts

(watch out for those carrier bearings)

All rear drive shafts

(rear drive shaft gaiters now in)

Floors

(includes load security so those tippers and pick ups beware)

Passenger hand grips

(quads and heavy trikes only)

Noise suppression material

(inside bonnet and around engine bay)

Under tray security

(if likely to become detached)

Emission control equipment

(incl. O2 sensors / NOx sensors / EGR valves)

Engine malfunction indicator lamp

(plus around 9 other warning lights)

Fluid leaks - engine, transmission etc

(but not antifreeze/ screen wash / ad blue)





Changes to test standards - new items added




These are the headline new testable items (there are more than listed here but they will be rarely used so let's focus on the main ones), make sure you learn these new items as failure to test a testable item is never good in the eyes of the DVSA

Brakes, new failures for;

Brake lining or pad wear indicator illuminated
Brake lining or pad incorrectly mounted
A brake disc or drum missing
Incorrectly installed brake slack adjuster
ABS system cannot be removed on a post 2010 vehicle
Brake fluid contaminated




Steering, new failures for;

Sector shaft condition
Steering gear fixing holes elongated
Electronic power steering wiring damaged or corroded
Fly by wire steering systems




Visibility, new failures for;

View of exterior mirrors added
Excessively tinted glass




Lamps, Reflectors and Electrical Equipment, new failures for;

Light source and lamp not compatible
Daytime running lamps
Front fog lamps
Reversing lamps




Axles, Wheels, Tyres and Suspension, new failures for;

Failures previously only applicable to large vehicles now apply to any vehicle
Tyre obviously under-inflated
A spring missing




Chassis frame and Attachments, new failures for;

Vehicle structure now fails if its rigidity is significantly reduced
New checks for strengthening plates and fastening
Exhaust fumes entering cabin failure extended to all vehicles
Fuel tank and exhaust shields missing
Any part of a gas fuel system defective
Bumper security
Spare wheel carrier condition
Tow bar safety devices and coupling indicators
Inspection of drive shafts extended to all transmission shafts, including prop shafts
Inspection now includes drive belts and chains ( Class 1-2)
Inspection of body condition now includes unsafe modifications, component security,
Cab security
Floor condition
Seat structure condition




Other Equipment, new failures for;

Seat belt not functioning as intended




Nuisance = This new Section includes noise, emissions and fluid leaks, new failures for;

Noise suppression material
Exhaust emission control equipment
Induction leaks
Engine malfunction indicator lamp
Evidence that a diesel particulate filter (DPF) has been tampered with





The DVSA guidance then moves on to Electric and Hybrid




Firstly, an easy win, if by chance you are presented with a Hydrogen Cell Vehicle then call the DVSA for advice on how to proceed

Then let's run over the main thrust of the DVSA training in and around Hybrid and Electric Vehicles (EVs) via this bullet point list (these points are direct guidance from DVSA on subjects that will be included in this year's annual exam, your annual training curriculum should go into greater detail but this is a good guidance without too much 'noise' around it);

Hybrids and EVs are not exempt from the MOT test


No special equipment is required to test Hybrid or EVs, any mot bay can test them


No special training is required to test Hybrid or EVs, and class 4-7 tester can test them


EVs are not sitting around waiting to electrocute you, they are safe and designed to be safe


A hybrid is a vehicle which has two different power sources


Typically, an EV will run using 350 volts DC, these high voltage cables are orange and should not be disconnected or interfered with.


Once powered down the high voltage cables are isolated, so inspection should be safe. If a HV cable is found to be damaged or inner cores exposed the test should be aborted and the car failed under section 4.11 (new manual)


Always familiarise yourself with the controls before testing commences, ask the presenter for help if needed and be sure you know how to 'power down' the vehicle.


Never touch the throttle pedal when stationary as some Hybrids may move off using electric drive


Do not take for granted that high voltage lines have been powered down, just assume they are live and respect them accordingly


Ensure your assistant is fully trained on driving and powering down a Hybrid or EV before you allow them into the test bay


Take care when checking under bonnet as Hybrid engines can self-start to charge batteries


The use of an assistant is recommended even for OPTL or ATL lanes, if you don't have an assistant available why not ask the vehicle owner.


Apply the parking brake at all times apart for the sections of the test which require wheel rotation


Powering down – if the vehicle has a traditional key and ignition then simply remove the key and apply the hand brake


Powering down – if the vehicle has a keyless setup then ensure that the 'ready' or dash lights are NOT illuminated, place the vehicle in park or apply the handbrake and keep the key at least 10 feet away from the car (that's 3 meters for the younger testers)


Powering down – where there is a push button system ensure that the ready mode is not displayed (this is usually a green car icon on the dashboard)





Data Protection




Data Protection is also a focal point of this year's training curriculum, so let's refresh ourselves with the salient points that DVSA would like us to absorb and remember;
Do not share information with anyone who would not normally have access to that information, this does include MOT test result information


Unless you are instructed to do so by the current MOT Testing Guide, the Inspection Manuals or a Special Notice you must NOT share any information with a third party or a member of the public who would not normally be expected to have access to that information


Make sure that you do not access personal information where there is a risk that unauthorised persons may be able to see that information


What's Left?
The remaining section talks about TQI and Quality management. These are actually a much wider topic so I will cover them in greater depth in a different article.
I hope this has slightly condensed the guidance for you.
For more information on how our system can help you and your garage please contact us on 01293 911120 or by email at info@motjuice.co.uk.
Never miss a beat...
Subscribe to the MOT Juice mailing list to receive alerts on new blog posts, industry news, new products and much more.
SUCCESS! Thanks for subscribing. We can't wait to send you some really exciting stuff.
OOPS! It looks like something went wrong. Please check your email address and try again.